Conference Venue

43rd IEEE Conference on Decision and Control
December 14-17, 2004
Atlantis, Paradise Island, Bahamas
---
Conference Venue
The 43rd IEEE Conference on Decision and Control will be held at Atlantis, Paradise Island, The Bahamas. Nassau/Paradise Island is served by Nassau International Airport (NAS). From the airport, a 1/2 hour cab or shuttle bus ride takes you to the capital city of Nassau and across the bridge to Paradise Island and Atlantis.
The Bahamas
Starting 60 miles off the coast of the U.S. state of Florida and stretching as far south as Cuba, Haiti, and the Dominican Republic, the Bahamas has over 700 islands, only 29 of which are inhabited. The Bahamas is a glorious retreat blessed with golden sunshine, white sand beaches, and clear, azure seas. Unhurried and utterly breathtaking, you'll find an endless rainbow of delights in the Bahamas. The islands' vivid subtropical atmosphere—brilliant sky and sea, lush vegetation, flocks of bright-feathered birds, and submarine gardens where multicolored fish swim among white, rose, yellow, and purple coral—as well as rich local color and folklore, has made the Bahamas one of the most popular resorts in the hemisphere.

Lying within the subtropical high pressure belt and washed by the warm Gulf Stream in the north, the islands enjoy an equable climate with much sunshine. Temperature varies little through the year, from winter averages of 70-75 degrees F (21-24 degrees C) to summer averages of 80-90 degrees F (26-32 degrees C). The highest recorded temperature is 94 degrees F and the lowest 51 degrees F.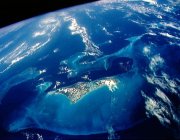 Looking east over the Bahamas (NASA Photo ID: STS052-153-102).
Nassau/Paradise Island
The jewel of The Islands Of The Bahamas, Nassau/Paradise Island is the cultural, social, political and economic centre of The Bahamas. Nassau/Paradise Island includes two separate islands connected by two bridges. Nassau, the capital city of the Bahamas, is located on the northeast shore of the island of New Providence. Tiny Paradise Island is directly across the bridge from Nassau. Although Nassau/Paradise Island accounts for less than two percent of the land area in The Islands Of The Bahamas, it is the residence for 60 percent of Bahamians.

The most visited destination in the islands, Nassau/Paradise Island has much to offer visitors. There are more sights and activities here than you can experience in one trip. Pristine beaches, duty-free shopping, posh resorts, dazzling casinos, exciting attractions, historical landmarks and water and land sports of every kind are all waiting for you. And they're all just a "stone's throw" away from each other.

Click here for more about the Bahamas...
Altantis
As recounted by Plato, Atlantis was an island, a fortress where Poseidon's five sets of twins ruled. There, within concentric rings of water and land, Atlanteans, lived a life of harmony and abundance. This evolved civilization flourished for years, until it was suddenly lost to the sea, submerged by an unforeseen volcanic eruption. Thought to be gone forever, Atlantis became an unattainable truth, as well as an inaccessible Eden. Until now.... Set amidist 34 acres of waterscape, Atlantis offers an experience of truly mythical proportion. With 11 exhibit lagoons filled with 11 million gallons of water and more than 50,000 sea animals, Atlantis has a marine habitat second only to Mother Nature. Through panoramic windows and underwater viewing tunnels, guests can get up close and personal with 200 different species, including shark, piranha, stingray, sawfish, green eel and more! Guests can explore "The Dig" which reveals Atlantean life as it may have been 11,000 years ago, challenge the Mayan Temple water slide, enjoy the 11 swimming areas, and discover endless action in the entertainment complex and casino. Atlantis also offers a Discovery Channel Camp for kids, a full service spa, a sports center, a golf course, a marina, shopping, 38 resturants and lounges.

Atlantis, Paradise Island, Bahamas:
2,347 rooms and suites
20 resturants / 18 bars
Casino / Live Entertainment
11 Outdoor Pools / 2 Children's Pools
Lighted Tennis Courts
Supervised Children's Program
Miles of pristine beaches
World's largest marine habitat, second only to Mother Nature, home to 50,000 sea animals of 200 species
11 swimming areas and miles of white sand beaches
Thrilling water slides on a 6-story Mayan Temple
Casino spanning a 7-acre lagoon open 24 hours a day
Discovery Channel Camp (TM) for kids and Club Rush for teens
Ocean Club Golf Course, home to touring pro Ernie Els
38 resturants and lounges (read bars)
Spa, Sports Center, world-class Marina, and duty-free shopping
18 hole putting course plus nearby championship golf.
Click here for more about Atlantis...
---